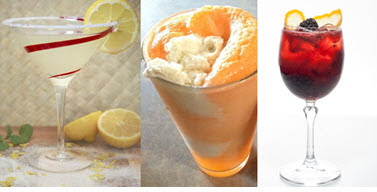 A guilt-free way to enjoy those cocktails! Take a look at our themed recipes below. They are zero calories which make them a perfect replacement for sodas and a great addition to cocktails!
La La Lemon-berry Drop
Introducing your new favorite cocktail, the La La Lemon-Berry Drop! Start with 3 muddled raspberries at the bottom of a cocktail shaker. Add a handful of ice, 1 oz of vodka and 4 oz of Cascade Ice Lemonade. Swirl the mixture around and strain into a sugar-rimmed glass. Garnish with a lemon slice or a couple raspberries if desired!
Octavia's Orangesicle Float
This simple, kid-friendly drink is sure to be a crowd pleaser! In a tall glass, put two scoops of your favorite vanilla ice cream.  Next, pour Cascade Ice Orange Mango over the ice cream until the glass if full. Garnish with an orange slice if desired and serve with a spoon and a straw!
The Mathmaticians Moonshine
This bourbon berry cocktail will get an Oscar in your heart. Start with 3 muddle blackberries in a cocktail shaker. Add ice and then combine 1 oz of Bourbon, 6 oz of Huckleberry Blackberry Cascade Ice into the shaker. Squeeze one lemon slice into the mixture and then give it a nice stir. Strain the blackberry goodness into a sugar-rimmed glass. Garnish with blackberries and a mint leaf and enjoy!